Borrego Springs is an unincorporated community in the county of San Diego and therefore has no city council.  Every two years the Borrego Springs Chamber of Commerce Board of Directors will each submit a list of candidates.  The nominee receiving the most acknowledgment's and meeting certain criteria is selected Honorary Mayor for a two-year term. Candidates should have been residents of Borrego Springs for at least ten years, currently a full-time resident and contributed to the overall quality of life in Borrego Springs.
Honorary Mayors Jim and Anne Wermers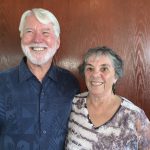 Jim and Anne Wermers are active Borrego Springs community members with wide ranging interests.
Jim was a home builder in San Diego when he was invited to Borrego Springs in 1992 to develop the Desert Shadows community. Anne and Jim were mesmerized by the beauty of the valley and the energy and friendliness of its residents. In 1995 they moved into one of the newly completed homes.
Jim currently serves on the Board at Borrego Art Institute and Borrego Village Association. He is on the leadership team with Borrego Valley Stewardship Council and serves on two of the Supervisor's community revitalization committees. Jim served on the Water Coalition and is a past President of de Anza Country Club. Anne is a long-time member of the Soroptimists and Borrego Springs Art Guild and serves on the Board of Desert Shadows HOA.
In 2010, Jim and Anne purchased the old Borrego Valley Foods building, donated it to Borrego Art Institute, and worked on its restoration and conversion into a community centerpiece. They also own The Mall and The Center.
Recently, Anne and Jim helped start the Feeding Borrego program and continue this weekly endeavor at
the Community Resource Center. They have two children, five grandchildren and three great
grandchildren.
| | |
| --- | --- |
| 2018- 2021 | Andrew R Macuga |
| 2016 - 2018 | Jim Wilson |
| 2014 - 2016 | Sylvanna Meeks |
| 2012 - 2014 | Martha Deichler |
| 2010 - 2012 | James "Okie" McNatt |
| 2009 - 2010 | Ernie Loza |
| 2008 - 2009 | Betsy Knaak |
| 2006 - 2008 | Mark C Jorgensen |
| 2005 - 2006 | Abby King |
| 2004 - 2005 | Astrid & Sam Webb |
| 2003 - 2004 | Bob Piva |
| 2001 - 2003 | Robert Cassidy (1918-2009) |
| 2000 - 2001 | Fred Jee |
| 1999 - 2000 | Eris Eckhart |
| 1998 - 1999 | Charlie Lusk |
| 1997 - 1998 | Joseph & Catherine Stone |
| 1996 - 1997 | Robie Evans |
| 1995 - 1996 | Maria Bertha & Juan Esparza |
| 1994 - 1995 | Francisco & Dora Murillo |
| 1993 - 1994 | Dori Holladay  (1937-2013)  [4] |
| 1992 - 1993 | Len Surles |
| 1991 - 1992 | Pat Patterson |
| 1990 - 1991 | David West |
| 1989 - 1990 | Ray Innocenti |
| 1987 - 1988 | Norri Bakko  (1906-1994) |
| 1986 - 1987 | Bud Kuhrts  (1923-1995) |
| 1985 - 1986 | Sam Fortiner |
| 1984 - 1985 | Jere Hansen |
| 1983 - 1984 | Virginia DeMarais  (1915-1994) |
| 1982 - 1983 | Dr. Floyd Woolcott |
| 1981 - 1982 | Fernando Murad  (1926-2011) |
| 1980 - 1981 | Bev Kuhrts  (1926-2013) |
| 1979 - 1980 | |
| 1978 - 1979 | no mayor |
| 1976 - 1977 | |
| 1975 - 1976 | Bob Di Giorgio |
| 1961 - 1974 | Gale Gordon   (1906-1995)  [2] |
| 1952 - 1961 | |
| 1951 - 1952 | Leo Carrillo   (1880-1961)  [1] |
| 1948 - 1951 | Frank Morgan   (1890-1949) |