Borrego Springs is an unincorporated community in the county of San Diego and therefore has no city council.  Every year the Borrego Springs Chamber of Commerce calls for the nomination of an Honorary Mayor.  The nominee receiving the most nomination letters and meeting certain criteria is selected Honorary Mayor for two year term. Candidates should have been residents of Borrego Springs for at least ten years, be full-time residents and contributed to the local quality of life.
Honorary Mayor Andrew Macuga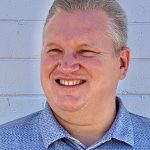 Mayor Macuga has been a resident of Borrego Springs since 1997.  Originally coming for only six months, Macuga never left the valley and met his wife Polly while working at Carlee's.   Three children later, Macuga is now the owners of Carlee's and Polly continues to teach local elementary classes.  The ultimate sports fan, you'll find Macuga coaching and assisting in youth sports programs throughout Borrego, from Little League to Head Coach, statistician to Senior Project Volunteer.  Whether its baseball or football, makes no difference Macuga loves them both and admits it's all about sports and it being fun for the youth. Yet with family and Carlee's, Macuga volunteers tirelessly and prefers no accolades or mentions instead saying "Life is about helping people in need."
Contact Mayor Macuga at (760) 767-3262 or Macuga1360@gmail.com
| | |
| --- | --- |
| 2018 - present | Andrew R Macuga |
| 2016 - 2018 | Jim Wilson |
| 2014 - 2016 | Sylvanna Meeks |
| 2012 - 2014 | Martha Deichler |
| 2010 - 2012 | James "Okie" McNatt |
| 2009 - 2010 | Ernie Loza |
| 2008 - 2009 | Betsy Knaak |
| 2006 - 2008 | Mark C Jorgensen |
| 2005 - 2006 | Abby King |
| 2004 - 2005 | Astrid & Sam Webb |
| 2003 - 2004 | Bob Piva |
| 2001 - 2003 | Robert Cassidy (1918-2009) |
| 2000 - 2001 | Fred Jee |
| 1999 - 2000 | Eris Eckhart |
| 1998 - 1999 | Charlie Lusk |
| 1997 - 1998 | Joseph & Catherine Stone |
| 1996 - 1997 | Robie Evans |
| 1995 - 1996 | Maria Bertha & Juan Esparza |
| 1994 - 1995 | Francisco & Dora Murillo |
| 1993 - 1994 | Dori Holladay  (1937-2013)  [4] |
| 1992 - 1993 | Len Surles |
| 1991 - 1992 | Pat Patterson |
| 1990 - 1991 | David West |
| 1989 - 1990 | Ray Innocenti |
| 1987 - 1988 | Norri Bakko  (1906-1994) |
| 1986 - 1987 | Bud Kuhrts  (1923-1995) |
| 1985 - 1986 | Sam Fortiner |
| 1984 - 1985 | Jere Hansen |
| 1983 - 1984 | Virginia DeMarais  (1915-1994) |
| 1982 - 1983 | Dr. Floyd Woolcott |
| 1981 - 1982 | Fernando Murad  (1926-2011) |
| 1980 - 1981 | Bev Kuhrts  (1926-2013) |
| 1979 - 1980 | |
| 1978 - 1979 | no mayor |
| 1976 - 1977 | |
| 1975 - 1976 | Bob Di Giorgio |
| 1961 - 1974 | Gale Gordon   (1906-1995)  [2] |
| 1952 - 1961 | |
| 1951 - 1952 | Leo Carrillo   (1880-1961)  [1] |
| 1948 - 1951 | Frank Morgan   (1890-1949) |