Borrego Springs is an unincorporated community in the county of San Diego and therefore has no city council.  Every two years the Borrego Springs Chamber of Commerce Board of Directors will each submit a list of candidates.  The nominee receiving the most acknowledgment's and meeting certain criteria is selected Honorary Mayor for a two-year term. Candidates should have been residents of Borrego Springs for at least ten years, currently a full-time resident and contributed to the overall quality of life in Borrego Springs.
Honorary Mayor Daniel Wright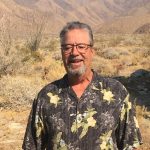 Hello,
I'm Daniel Wright, Borrego Springs Honorary Mayor. I'd like to take a moment to introduce myself.
My family has been visiting, working and living in Borrego Springs for 45 years now. My parents, Bill and Jenny Wright, owned and operated the RoadRunner Club for 37 years. Together, my family built The Springs at Borrego, one of the highest-rated RV campgrounds in the nation.
Over the years I've been involved in many charitable, cultural and business activities here, including Borrego Days, the Film Festival, the Senior Center, the Children's Center, and the Chamber of Commerce.
Why? To put it simply, it's a labor of love. I love this place called Borrego Springs, and the people who live here.
Whether you are longtime or brand new residents, or visitors to our beautiful community, I look forward to meeting every one of you, and say thank you.
Welcome home!
2021- 2023    Jim & Anne Wermers
| | |
| --- | --- |
| 2018- 2021 | Andrew R Macuga |
| 2016 - 2018 | Jim Wilson |
| 2014 - 2016 | Sylvanna Meeks |
| 2012 - 2014 | Martha Deichler |
| 2010 - 2012 | James "Okie" McNatt |
| 2009 - 2010 | Ernie Loza |
| 2008 - 2009 | Betsy Knaak |
| 2006 - 2008 | Mark C Jorgensen |
| 2005 - 2006 | Abby King |
| 2004 - 2005 | Astrid & Sam Webb |
| 2003 - 2004 | Bob Piva |
| 2001 - 2003 | Robert Cassidy (1918-2009) |
| 2000 - 2001 | Fred Jee |
| 1999 - 2000 | Eris Eckhart |
| 1998 - 1999 | Charlie Lusk |
| 1997 - 1998 | Joseph & Catherine Stone |
| 1996 - 1997 | Robie Evans |
| 1995 - 1996 | Maria Bertha & Juan Esparza |
| 1994 - 1995 | Francisco & Dora Murillo |
| 1993 - 1994 | Dori Holladay  (1937-2013)  [4] |
| 1992 - 1993 | Len Surles |
| 1991 - 1992 | Pat Patterson |
| 1990 - 1991 | David West |
| 1989 - 1990 | Ray Innocenti |
| 1987 - 1988 | Norri Bakko  (1906-1994) |
| 1986 - 1987 | Bud Kuhrts  (1923-1995) |
| 1985 - 1986 | Sam Fortiner |
| 1984 - 1985 | Jere Hansen |
| 1983 - 1984 | Virginia DeMarais  (1915-1994) |
| 1982 - 1983 | Dr. Floyd Woolcott |
| 1981 - 1982 | Fernando Murad  (1926-2011) |
| 1980 - 1981 | Bev Kuhrts  (1926-2013) |
| 1979 - 1980 | |
| 1978 - 1979 | no mayor |
| 1976 - 1977 | |
| 1975 - 1976 | Bob Di Giorgio |
| 1961 - 1974 | Gale Gordon   (1906-1995)  [2] |
| 1952 - 1961 | |
| 1951 - 1952 | Leo Carrillo   (1880-1961)  [1] |
| 1948 - 1951 | Frank Morgan   (1890-1949) |